JCB partners with iZettle and the iconic London Black Taxis
December 22, 2017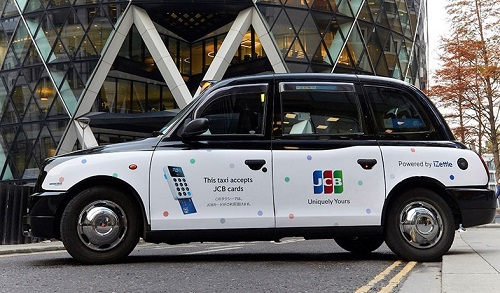 December 22, 2017, London/Tokyo: JCB International Co., Ltd. (hereinafter referred to as "JCB"), the international operations subsidiary of JCB Co. Ltd, has partnered with iZettle, the award-winning Swedish fintech company, with an awareness campaign using the iconic London Black taxis.
The campaign aims to reinforce the message that JCB and iZettle merchants across Europe accept JCB Cards.
This is good news for JCB's 106m Cardmembers that may visit London and want to hail London taxis equipped with iZettle payment devices or make a purchase at an iZettle merchant. iZettle revolutionised mobile payments in 2011 and has rapidly moved beyond payments to become a small business commerce platform, offering tools to take payments, register and track sales and to get funding. For JCB, the deal forms part of its strategy to increase its acceptance footprint across the SEPA region by expanding its merchant acceptance network to support its growing global Cardmember base. The London taxi partnership will see ten London black cabs co-branded with JCB and iZettle acceptance awareness for the next six months, ending in May 2018. All London Taxis with iZettle payment devices will accept JCB Cards.
Mr. Tsuyoshi Notani, Managing Director, JCB International (Europe) Ltd. said, "As a global payments solution provider, we felt that now was the perfect time to partner with iZettle to increase JCB acceptance awareness across our European markets. With the huge growth in Asian visitors coming to Europe, our partnership with iZettle enables JCB Cardmembers to pay for goods and services wherever they use an iZettle merchant in Europe, providing increased potential profits and new customer opportunities."
Stewart Roberts, EVP of iZettle said, "We're thrilled to enable more merchants to accept JCB Cards. We want to bring the global market to the small business marketplace. This partnership is another step forward in doing so and we are very excited to work with JCB International."