Nets Group launches JCB's J/Speedy(TM) NFC mobile technology first in Europe.
November 21, 2017
November 21 2017, Copenhagen and Tokyo: The Nets Group and JCB International Co. Ltd. (JCBI), the international operations subsidiary of JCB Co. Ltd, have launched JCB's EMV(R) contactless standard in Denmark for the first time. The solution combines Host Card Emulation (HCE) technology with JCB's latest J/Speedy(TM)(※1) contactless specification enabling Danish cardholders to tap and pay on their Android Phones at supermarkets and retailers across Denmark. Through this partnership, Nets merchants equipped with J/Speedy(TM) contactless terminals, will be able to accept payments from JCB cardmembers using their J/Speedy cards and smartphones in Europe.
※1

J/Speedy: JCB brand contactless payment solution that is compliant with NFC and EMV(R) Contactless Communication Protocol Specifications. (EMV(R) is a registered trademark in the U.S. and other countries and an unregistered trademark elsewhere. The EMV trademark is owned by EMVCo.)
This is the latest development in last year's strategic partnership announcement between Nets Group and JCB, targeting the expansion of JCB's EMV(R) J/Speedy(TM) contactless standard in Europe. JCB's strategy is that all merchants across Europe will be able to accept JCB's J/Speedy(TM) contactless payments in the future.
Nets will now be able to support an increasing number of JCB's cardmembers visiting Europe with JCB's J/Speedy(TM) contactless functionality on their cards and smartphones.
Thomas Jul, Group Executive Vice President, Nets Group, "We are delighted to be the first in Europe using JCB's advanced EMV(R) contactless technology which will ensure a frictionless and enjoyable payments experience between Nets merchants and consumers initially in Denmark. In addition, we are pleased to expand J/Speedy(TM) acceptance across all of Nets core markets to support JCB's growing number of J/Speedy(TM) contactless transactions from JCB's cardmembers visiting Europe."
Mr. Kimihisa Imada, President and COO, JCB International Co., Ltd. said, "We are delighted to announce the first launch of J/Speedy(TM) mobile contactless technology with Nets in Europe. We are planning to accelerate our contactless cards and mobile programmes with JCB issuers around the world in the future. Our state-of-the-art HCE mobile solution utilizing JCB's trusted J/Speedy(TM) contactless standard with Nets will allow both companies to continue to provide high value service to our cardmembers and merchants."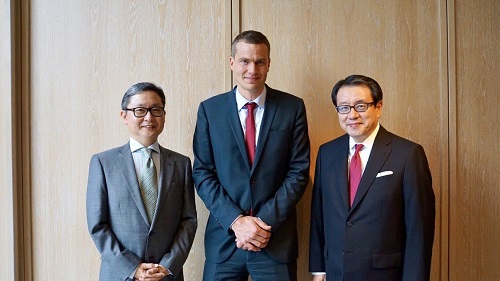 About Nets Group
Nets Group provides a broad range of services within payment cards, bank account services, and payment solutions for merchants. Connecting banks, businesses, the public sector, merchants and consumers via an international network facilitating digital payments, Nets spans across the Nordic region - mainly Denmark, Norway, Finland and Sweden, with a strong presence in Estonia and growing in other Baltic countries. Nets offers a wide range of standard and customised end-to-end IT solutions, building on a comprehensive network and commitment to deliver stable and secure operations at all times.
For more than four decades, it has been instrumental in developing a modern payment infrastructure, with the introduction of a number of successful payment products to the Nordic region, including Dankort, Betalingsservice, NemID, BankID, Avtalegiro and BankAxept.
For more information, please visit www.nets.eu