JCB International partners with Allied Wallet for online and POS merchant acceptance
June 28 2017

June 28 2017, London/Copenhagen: JCB International Co., Ltd. (JCBI), the international operations subsidiary of JCB Co. Ltd, has signed an agreement with Allied Wallet Ltd, the award-winning globally leading payment services provider (PSP) of online payment processing, to facilitate JCB transactions in the Single Euro Payments Area (SEPA). Allied Wallet will extend its JCB functionality beyond e-commerce to bricks and mortar point-of-sale (POS) acceptance, allowing their retailers to attract JCB's 106 million cardmembers worldwide to both their online and/or physical outlets respectively.
Allied Wallet has seen tremendous growth over recent years, being named a certified acquirer and securing a number of acquiring licences to offer merchants extensive payment acceptance with over 100 different payment methods globally. As the business expands beyond Western markets, clients have demanded JCB acceptance to satisfy the significant number of Asian consumers their merchants engage with, including a wide range of e-commerce shopping cart partners. For JCB, the deal forms part of its strategy to increase its footprint across the SEPA region by expanding the JCB merchant acceptance network to support Asia as the most rapidly growing B2C ecommerce region, including China as the 1st and Japan as the 4th largest global market, by engaging directly with non traditional legacy acquirers.
The first phase of the partnership will see systems integration for JCB ecommerce acceptance in Q4'17, then becoming fully operational including POS certification during 2018.
Mr. Kimihisa Imada, President and COO, JCB International Co., Ltd. said, "As a leading payments disruptor, we felt that now was the perfect time to partner with Allied Wallet to expand our acceptance network across European markets. With the huge growth in e-commerce and international travel, JCB serves as a gateway to Asia for emerging alternative regulated payment institutions, offering European merchants the ability to engage with Asian consumers whilst simultaneously allowing JCB cardmembers the comfort and flexibility of being able to use their preferred payment method when shopping both online and abroad. As such, we are always searching for new partnerships with payment gateways that can provide a variety of ways to connect with merchants".
Dr. Andy Khawaja, CEO of Allied Wallet, said, "We're very happy to fulfill the consumer demand and enable more merchants to accept JCB. We're in the business of connecting merchants and consumers and simplifying payments globally, and we strive to innovate and protect transactions to create a better global marketplace. This partnership is another step forward in doing so and we are very excited about this new partnership with JCB International".
About Allied Wallet
Allied Wallet is the preferred online merchant services and global payment gateway solution for businesses that need to accept online payments. As an award-winning payment processing company, Allied Wallet specializes in state-of-the-art payment services that connect a world of buyers and sellers.
Allied Wallet offers simple and secure solutions that enable nearly any business type to accept 164 currencies globally. In less than a day, a business can begin accepting payments online because Allied Wallet simplifies payment processing globally.
For more information, please visit: www.alliedwallet.com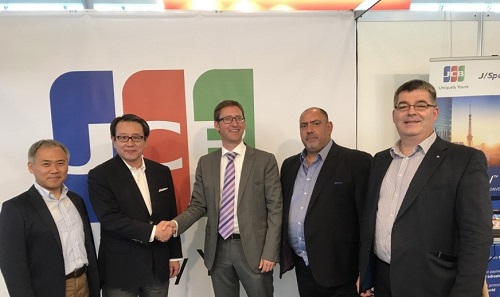 (From left)
Tsuyoshi Notani, Managing Director of JCB International (Europe) Ltd.
Kimihisa Imada, President and COO, JCB International Co., Ltd.
Steve Wilson, Managing Director of Allied Wallet Ltd.
Andrew Doukanaris, Senior Vice President of JCB International (Europe) Ltd.
Nick Fisher, Regional Projects Manager, Sales & Marketing of JCB International (Europe) Ltd.