PayPak - JCBI Co-Badged Cards Agreement
April 13, 2018

On 13 April 2018, Tokyo, Japan / Karachi, Pakistan -JCB International Co,. Ltd (JCBI), the international operations subsidiary of JCB Co., Ltd., signed an agreement with 1LINK (Guarantee) Limited (1LINK) for co-badging of PayPak cards as per approval of State Bank of Pakistan (SBP). This signing ceremony was held on 28 March, 2018 at 1LINK's office. This agreement will allow 1LINK member banks to issue co-badged cards to those customers who seek both international and domestic spending convenience on one plastic.
Co-badging is the inclusion of two payment schemes on the same card (PayPak and JCB), enabling functionality of two networks on one physical card. Domestic transactions for PayPak - JCB co-badged card will route via PayPak. PayPak - JCB card holders will be able to use their card internationally utilizing JCB's world-wide network.
This alliance is the first co-badged PayPak agreement, enabling increased issuing of PayPak cards across the nation. 1LINK will be able to make PayPak - JCB a payment card of choice, capable to service customers on both international and domestic markets. In line with SBP Vision 2020, 1LINK is committed towards driving financial inclusion and enhancing PayPak's footprint internationally.
Kimihisa Imada, President and COO of JCB International, said "We are pleased to enter into this agreement with PayPak. Card holders will be able to benefit from acceptance at around 30 million merchant locations and our extensive E-commerce network across the globe. We believe this will also help develop PayPak's domestic proposition."
On the occasion Mr. Najeeb Agrawalla, CEO, 1LINK, said "With this strategic move, PayPak cards will now be accepted globally, which will give customers an economical option for usage abroad."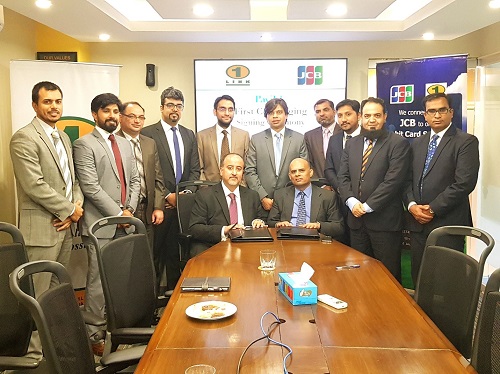 About 1LINK Guarantee Limited

1LINK (Guarantee) Limited, owned by a consortium of 11 banks, is the country's 1st PSO/PSP and largest switch and payment system, providing a host of valuable online banking services like ATM switching, Bills Payment, Inter Bank Funds Transfer, Fraud Risk Management, Switch Dispute Resolution, Global Payment Schemes, PayPak - Domestic Payment Scheme, etc. 1LINK is continuously evolving and adding new products and services to benefit the financial industry.